Homemade Baguette or Baguette is a side from Laura Vitale.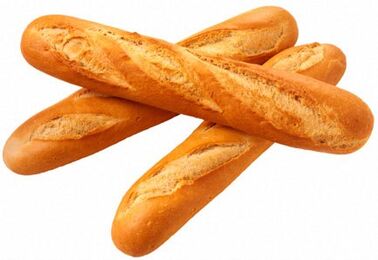 3-1/2 to 4 cups of 00 flour/All Purpose Flour (start with 3-1/2 cups of flour, if your dough is really too sticky, add the remaining 1/2 cup of flour)
1-1/2 cups of Warm Water
1-1/2 tsp of Yeast
1 tsp of Sugar
2 tsp of Salt
Mix the sugar into the warm water and then pour in the yeast and set aside.  Pour the dry ingredients into the mixing bowl and turn on at lowest speed using a dough hook for around 30 seconds.  After several minutes of the yeast activating and a foam has developed up the sides of the measuring cup, turn the mixer back on and slowly pour the water into the flour mixture.  Allow the dough to mix for at least 5-6 minutes until it is nice and sticky.  The additional flour does not have to be added once it looks creamy.
Pour the dough into a large bowl that has been coated with oil.  Using a brush, apply more oil to the top of the dough and cover with plastic wrap.  Allow to rest for 1½ - 2 hours someplace warm like a microwave oven.
Preheat your oven to 475, place one rack on the highest position another rack on the lowest.  Place a cast iron skillet on the bottom rack.  Measure out 1 cup of cold water and place it close to the oven.
Throw about a ½ cup of flour onto a working surface and spread it around.  Pour the dough onto the same surface and using a dough scraper and your hand, begin to knead the board flour into the dough and at the same time, flipping the dough and rotating it with your other hand.  Knead for 2 minutes forming a large ball and cutting it into thirds.  Flour the surface again and roll each of the three balls of dough into long cylinders.  If you have a professional baguette pan, dust it with flour now and place the loaves in it.  You can otherwise dust a baking sheet lined with parchment paper with flour and place the loaves on that.  Place 3-4 diagonal slits on the top of each baguette.  Cover with a towel and allow to rest until the dough has doubled in size, between 30-45 minutes.
Remove the towel and place the cookie sheet on the top rack of the over. Pour the water into the cast iron skillet and immediately close the oven door.  Remove at 30 minutes and cool.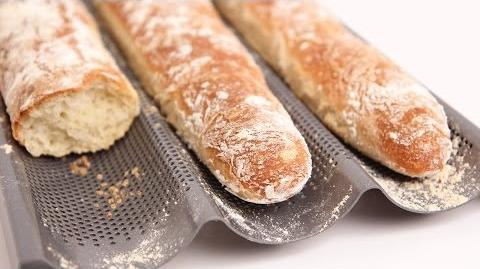 Community content is available under
CC-BY-SA
unless otherwise noted.